Funeral Sermons
These free sermon outlines are in PDF format. You will need Adobe Acrobat Reade 8.0 (or higher) to open and print these sermons. These sermon outlines may not be placed on any othe website.
Funeral For A Stillborn Child. A touching funeral sermon for those little ones who have died before the day of their birth (File size: 89k).
Funeral For An Elderly Christian. While we are sad to lose one beloved in the Lord, there is reason to rejoice when a child of God goes home (File size: 80k).
Funeral For A Non-Christian. What can you say when the deceased was not "in the Lord"? Preach a sermon to the family, not to the dead! (File size: 89k).
Free Book Of Wedding And Funeral Sermons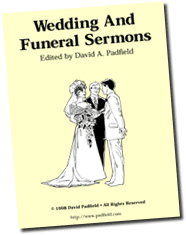 Over 450,000 copies of this book of Wedding And Funeral Sermons since 1998. Includes vows for both bride and groom to exchange during the ceremony. This free book is a collection of wedding ceremonies and vows, along with several funeral sermons by David Padfield, Wayne Greeson, James Fox, Harry Lewis, Brian Sullivan, Wayne Walker, Gene Taylor, Robert Welch, Roger Hillis and Ney Rieber. If you are planning on a wedding you will want to consult this book for sample vows, ceremonies and sermons before you exchange rings and vows (PDF file size: 149k).