Preaching On Prayer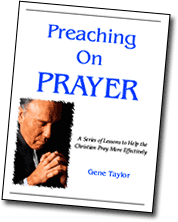 This book contains eight sermon outlines on the vital topic of prayer. Topics include:
What Is Prayer?
The Elements of Prayer
Assumptions of Prayer
The Power of Prayer - Its Blessings
Things for Which to Pray
Keys to Acceptable Prayer
The Model Prayer
Common Questions on Prayer
Download the free sermon outline book, Preaching On Prayer, (PDF file size: 356k).