About This Site
This site is paid by by Gene Taylor, Jeff Asher and David Padfield. We do not solicit donations of any kind. David Padfield is the designer of this site and Gene Taylor handles the correspondence we receive.
Gene Taylor (Tallahassee, Florida)

Gene Taylor is the local evangelist for the Centerville Road Church of Christ in Tallahassee, Florida. He also serves as one of its elders. He and his wife Sandy were married September 16, 1967. They have three children and two granddaughters.
Gene began full-time preaching in 1974 with the church in Downers Grove, Illinois. In 1977 he moved to Evansville, Indiana where he worked with the Northwest congregation. In 1981 he began working with the church in Mount Vernon, Indiana. He has worked with the Centerville Road church since June 1984. In addition to his regular responsibilities each week, he holds several gospel meetings each year and he has written several books and Bible class studies.
David Padfield (Zion, Illinois)

David Padfield is the local evangelist for the Church of Christ in Zion, Illinois. He was born in Kokomo, Indiana and began preaching while he was still in high school. He and his wife, Sharon, were married in 1978 and they have three children.
His first "full-time" work was in Bowling Green, Kentucky at the Eastside Church of Christ. In 1980 he and his family moved to work with the Northwest Church of Christ in Evansville, Indiana. While in Evansville he helped to establish the Eastside congregation, and Harry Lewis came to work with the Northwest congregation. David and Harry worked together on a weekly call-in radio program for seven years. In 1993 the Padfield's moved to Zion, Illinois to work with the brethren there.
Over the years Padfield has engaged in numerous public debates on a wide variety of topics. He has also authored several hundred articles on Bible topics, and has written class books on nearly every book of the Bible. His trips to Israel, Jordan, Turkey, Greece, Italy and Egypt have made it possible to post a large number of photographs of the Bible lands on this website. These photos are often used in college text books and other publications around the world. He is also a full member of the Society of Biblical Literature. On a personal note, Padfield is an Endowment Member of the National Rifle Association. For more information, you can view his profile on LinkedIn.
Jeff Asher (Katy, Texas)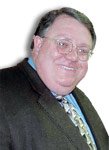 Jeff Asher was reared in Pine Bluff, Arkansas where he obeyed the Gospel at the age of 13. At 19 He began preaching by appointment throughout South Central Arkansas. Over the last 28 years he has worked with churches in Arkansas, Louisiana and Texas.
Asher's evangelistic work is represented by a wide range of activity. He has preached in established churches and been instrumental in establishing churches. Early in his ministry he began radio preaching which he continues to do each week on KGAS. Every year he conducts several evangelistic meetings for churches and has been to Central America in such efforts. He maintains a Web site and contributes to others. He is a staff writer for Faith and Facts Quarterly and one time associate editor of With All Boldness. He has also been interested in debating as a teaching method and has conducted 15 or more debates with representatives of several denominations on a wide variety of topics.
Jeff holds a BS from Southern Arkansas University in Magnolia, Arkansas. He and his wife Cyndi will soon celebrate 25 years of marriage. They have two daughters, Rebekah and Mary Beth.